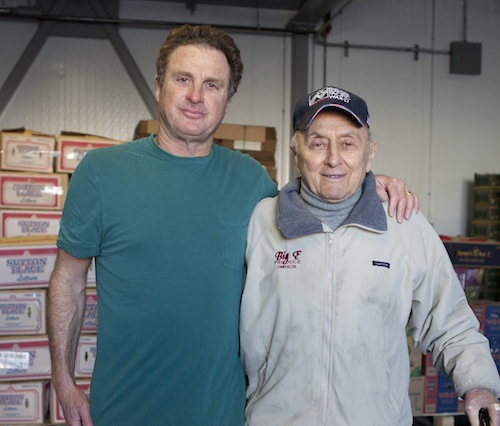 Our mission is to provide our customers with exceptional personal service, prompt accurate information and the best value on premium quality fresh fruits and vegetables.
Developing and maintaining long-term partnerships is the basis of our Company's philosophy. We are committed to upholding our reputation of honesty, integrity and sound business practices with customers, growers, and shippers.
Staying true to our mission on a daily basis enables us to provide outstanding customer service.  Our mission is what our company was built on.  It has led to our current position in the industry and will continue to guide us into the future.
Our History
Owner Ted Kaplan's grandmother, Dora, began farming in Idaho in the early 1900's. She moved here from Ukraine at the age of 9 and began working at various farms throughout the US. She peddled potatoes and onions with a wagon and eventually moved to Los Angeles and opened Kaplan's Fruit and Produce. She drove a horse and buggy to the field, hand selected produce, and sold the product. She was known throughout the Los Angeles Produce Market as "Mama" and held the title as a Matriarch of the Fruit Stands throughout the country. By 1965, Kaplan Fruit and Produce was one of the largest fresh produce distribution companies in Los Angeles.
The same values that Dora practiced are still exemplified through our work at Professional Produce and have helped us become the well-renowned enterprise we are today.
Following in Dora's footsteps was her son, Milt Kaplan.  "Since the day I was born, the only time in my life where I took more than a week off from working in the produce business was when I served our country in World War II," recalls Milt. Following his stint in the military, he continued to help the successful Kaplan's Fruit and Produce. He ended up starting his own company, named The Produce Place and became one of the largest distributors of fresh produce in the Southwest. His expertise can't be replicated and has led him to becoming one of the most well-known and liked figures in the the business. Now at 91, Milt continues to work six days a week at Professional Produce, coming in at 1:00 in the morning.
Like his dad before him, Ted Kaplan has spent his life in the produce business. He grew up helping Dora at Kaplan Fruit and Produce and his father at The Produce Place. He has lived all over the world exploring different farming and growing techniques and has established many relationships with produce people from these countries. He started Professional Produce in 1994.
Click here for a PDF about Dora Kaplan